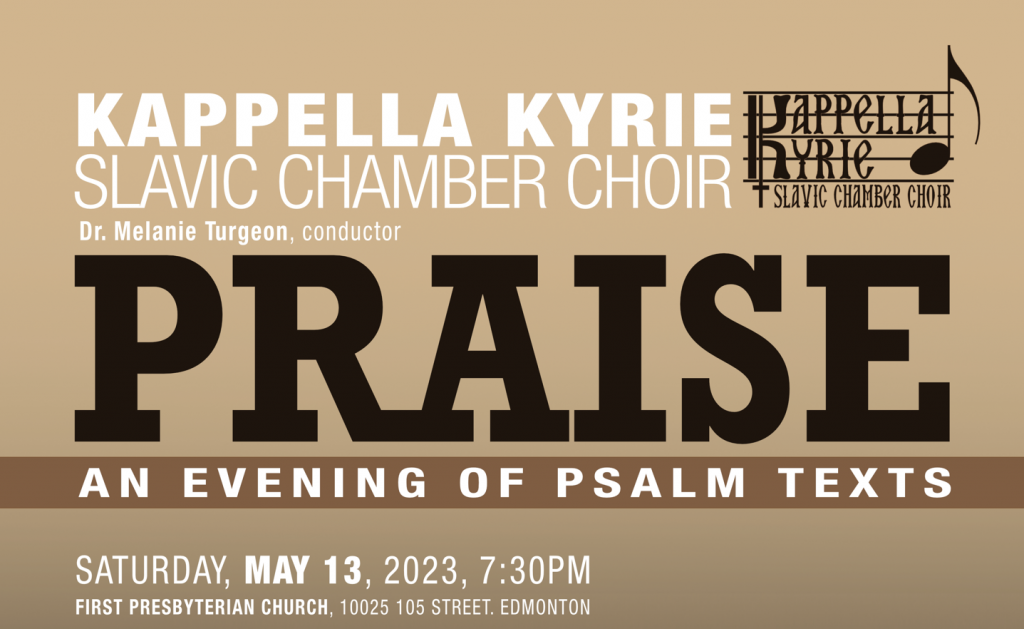 Kappella Kyrie Slavic Chamber Choir presents "Praise" on May 13, 2023
Kappella Kyrie Slavic Chamber Choir is pleased to present PRAISE with special guests Shumayela, an Edmonton-based choir for treble and changing voices, part of the Kokopelli Choir family. The concert will be held on May 13 at 7:30 PM, at the First Presbyterian Church (10025 105 Street).
The evening's program is centred on American composer Leonard Bernstein's Chichester Psalms. Leonard Bernstein was born to Ukrainian-Jewish parents from Rivne, Ukraine. Kappella Kyrie and Shumayela will perform a version scored for organ, harp, and percussion, with a treble solo performed by Shumayela's young soloist, Alena Malykhina. Shumayela and Kappella Kyrie will also jointly perform Benedict Sheehan's "Second Antiphon" and Brazilian composer Ernani Aguiar's Salmo 150.
This program aims to feature living composers. Psalm texts are prolific in the services of the Eastern Christian Church and will include excerpts from the Divine Liturgy of St. John Chrysostom and Vespers from Ukrainian-Canadian composer Roman Hurko, two Grammy Nominated composers, Benedict Sheehan and Kurt Sander, among others.
Buy Tickets Now
---
Follow us on:
Facebook | YouTube | Instagram

---
Kappella Kyrie Slavic Chamber Choir
EMAIL: info@kappellakyrie.org
PO Box 535 Edmonton Main, Edmonton Alberta T5J 2K1
Charitable Number: 74646 3736 RR 0001