ABOUT THE CHOIR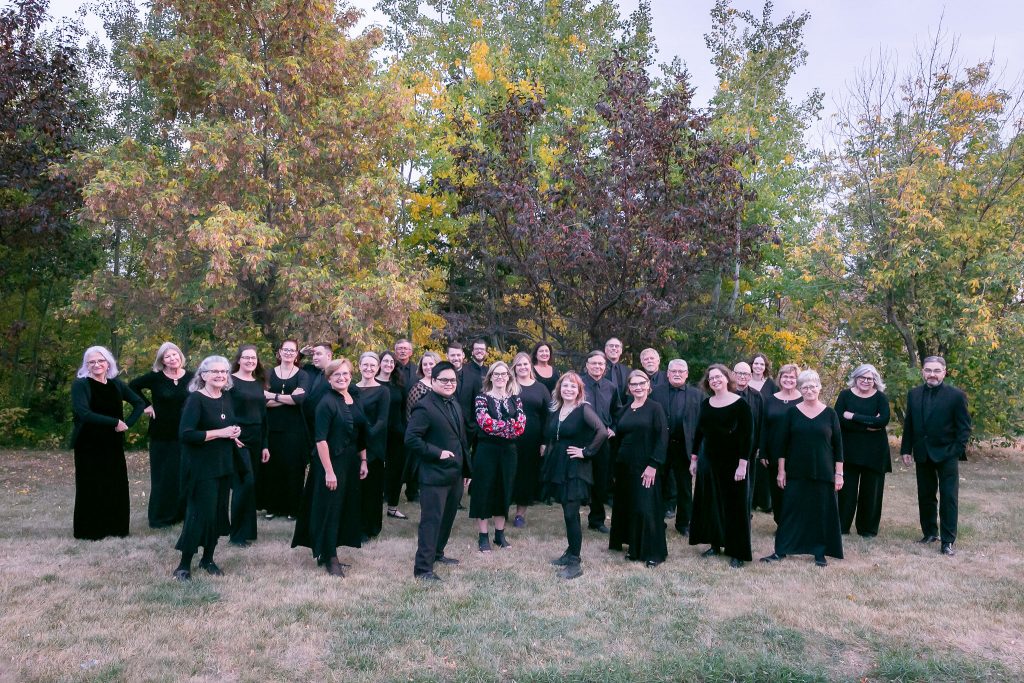 In the spring of 2010, Melanie Turgeon and others began assembling Kappella Kyrie Slavic Chamber Choir. This ensemble explores a variety of repertoire with a consistent consciousness and commitment to uphold Slavic sacred music, thus keeping the centuries-old musical traditions of the Eastern church present in the musical experience of the broader community. 
Kappella Kyrie has performed several concerts to date and they have served the local community in various ways: caroling at the Stollery Children's Hospital and Edmonton's Maximum Security Institution, singing the Divine Liturgy at the Marian Centre, performing at Newman Theological College's fall Convocation, among other engagements. They have partnered with various Alberta ensembles, including Chorale Saint-Jean, The King's University Chamber Choir, the Richard Eaton Singers, and the Calgary Youth Orchestra. A unique collaboration included a concert with renowned Canadian tenor, Benjamin Butterfield in November 2017. Beyond their immediate choral community, in May 2014 they toured through Poland, Slovakia, and Hungary. Kappella Kyrie gained national recognition in the 2015 Choral Canada National competition by placing second in the Pan-Cultural Traditions category. They were eligible to reapply in 2019 and were awarded first in this category.  
In June 2019 Kappella Kyrie sang the North American premiere of Ukrainian Baroque composer, Artem Vedel's, sacred concerto with orchestra: ,,Помолихся лицу Твоему всем сердцем моим.'' The Vedel' Concerto  was paired with Vivaldi's famous Gloria and performed on period instruments at Baroque pitch (415 Hz) in a concert that received high acclaim!
Kappella Kyrie has uniquely sung sacred repertoire within actual church services. In celebration of their fifth anniversary, in June 2015, they sang Rachmaninoff's famous All-Night Vigil as a church service at two local Orthodox parishes. This has never been done before in Canada and possibly even in North America! Similarly, as part of Podium 2016, Canada's biennial choral music and conductor's conference, Kappella Kyrie was invited to sing The Divine Liturgy of St. John Chrysostom. They chose to share music spanning from the 17th to the 21st century, and were applauded not only for their creative programming but also for educating people from a variety of faiths on the Divine Liturgy and Eastern Christian worship. Kappella Kyrie works hard to increase awareness of known and lesser known choral compositions, especially the works of Eastern European composers. At this service they premiered selections from Ukrainian female composer, Stefania Turkewich's "Divine Liturgy" which she composed in 1919. Due to the fall of communism this composition sat dormant for nearly an entire century. In November 2018, Kappella Kyrie performed Canadian composer, Roman Hurko's Panakhyda (Requiem) for a memorial service at Edmonton City Hall commemorating the 1932-33 famine in Ukraine (Holodomor). Choral compositions like Rachmaninoff's All-Night Vigil and Hurko's Panakyda are almost exclusively performed as concert repertoire. Kappella Kyrie has made it an important part of its mandate to show audiences how these compositions actually function within worship services.
ABOUT THE DIRECTOR
Melanie Turgeon began studying conducting at the age of 16, under the tutelage of Wolodymyr Kolesnyk, former conductor of Kyiv State Opera and Ballet Theatre. She holds a Doctor of the Musical Arts Degree in Choral Music from the University of Illinois, plus she has had the pleasure of studying with numerous conductors over the past several years. 
Dr. Turgeon is Associate Professor of Music and Choral Director at The King's University in Edmonton, Alberta. Melanie has conducted many choirs and ensembles and has presented research at several academic institutions and conferences both in Canada and internationally. She has also toured extensively with her choirs, including three very successful European tours. In addition to her role at King's, Dr. Turgeon is a member of the Eparchial Liturgical Commission, where she is responsible for the incorporation of liturgical music into various publications for the Ukrainian Catholic Church. She has organized and taught workshops for educating cantors and has created several resources and publications for this purpose, most recently a 250-page publication which will be officially launched later this year. From 2002-2018, she served as Music Director and Cantor at St. Josaphat Ukrainian Catholic Cathedral in Edmonton.
Highlights in Dr. Turgeon's research endeavors include the publication of a book entitled, Composing the Sacred in Soviet and Post-Soviet Russia (2008), and a hymnal with an accompanying five-CD set, Sing to our God (2008). She has also released three recordings with Heruvymy Ukrainian Female Quartet and one with King's Choirs, entitled, The Voice of My Prayer (2011). In 2010 she founded Kappella Kyrie, a choir primarily devoted to Slavic sacred music. Melanie is very honored to have gained national recognition with Kappella Kyrie in the 2019 and 2015 Choral Canada National Competition by placing 1st in 2019 and 2nd in 2015 in the Pan-Cultural Traditions Category. Melanie is heavily involved with the Ukrainian Art Song Project, serving as a producer or co-producer. Moreover, she has presented at various CD launch concerts and conferences, including the World Vocal Symposium in St. John's, Newfoundland in July 2013, and at an international conference at Columbia University in February 2017. Melanie has served on the faculty for the Ukrainian Art Song Project's Summer Institute in Toronto for the past three summers.